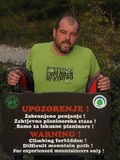 Boris Juričević , sales department at Fiore tours
http://www.fiore.hr
Bilateral Meetings
October 3, 2014 (09:30 - 09:45)
October 3, 2014 (09:45 - 10:00)
October 3, 2014 (10:00 - 10:15)
October 3, 2014 (10:15 - 10:30)
October 3, 2014 (11:00 - 11:15)
October 3, 2014 (11:15 - 11:30)
October 3, 2014 (11:30 - 11:45)
October 3, 2014 (11:45 - 12:00)
October 3, 2014 (12:00 - 12:15)
October 3, 2014 (12:15 - 12:30)
October 3, 2014 (15:45 - 16:00)
October 3, 2014 (16:00 - 16:15)
October 3, 2014 (16:15 - 16:30)
October 3, 2014 (16:30 - 16:45)
October 3, 2014 (16:45 - 17:00)

Fiore Tours - your adventure partner in Croatia

Traveling in small groups between 4 and 18 people gives you lots of freedom – much like you would have if you were traveling with friends. Small group travel provides safety, security and the right amount of pre planning that independent travel lacks.

Our tours provide lots of opportunities to explore the beauty of nature, discover natural wonders, interact with the local people and really get involved in fun activities.
Fiore adventure advantages:

Service of a trained and licensed tour leader / guide
Transport in own fleet of mini van's and minibuses
Excellent customer service, itinerary planning and advice
No driving stress, which inevitably occurs when you drive yourself
No searching for a place to spend the night
No problems finding places of interest and organizing activities
Fiore Ltd was founded in 1992. Our beginning was mainly based on clients accommodation in hotels, apartments and private accommodation in Croatia, including complete tourist service ( guests transportation, representative service in hotels and at airport, including excursion programe) to foreign touroperators. As we had lately a large number of requests regarding round trips organisation such as, cultural, adventure and gourmet travel for smalller groups, we have decided to divide the company in two segments:

Classical inbound touroperator, operates in renting hotel accommodation, apartments, private accommodation, excursion programme, transfers, representative service at airport and in hotels, service of tourist guides, rent a car (bike, scooter, quad, cars, minivans, bus) complete service for big groups.

Adventure tour operator and DMC – specialised in organising adventure, cultural and gourmet travel, events, incentives in Croatia, Slovenia, Bosnia & Hercegovina and Montenegro. Our speciality is traveling in small groups between 4 and 18 people. Small groups of like-minded people traveling together make a big difference to the overall quality of your personal travel experience. We have tailored our group sizes to ensure that each individual is able to make the most of the regions where we travel and the activities we engage in within the context of a small group of like minded people traveling together.
Country: Croatia
Organization Type: Tour operator, Tourist agency, Teambuilding agency, Tourist destination organisation, Adventure sports agency
Phone: 0038552431397
Email: info@fiore.hr
City: Poreč ,Mate Vlašića 6 Google map
Areas of Activities
Request
Hotels,Accommodation, Activities,Excursions
What can Exibitor offer for small groups in Slovenia, based on Active offers, Gourmet and other possibilities.