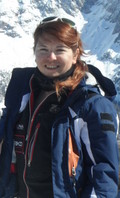 Aleksandra Głowacka , Manager at SKIACTIVE
http://www.skiactive.com
Bilateral Meetings
October 3, 2014 (09:30 - 09:45)
October 3, 2014 (09:45 - 10:00)
October 3, 2014 (10:00 - 10:15)
October 3, 2014 (10:15 - 10:30)
October 3, 2014 (11:00 - 11:15)
October 3, 2014 (11:15 - 11:30)
October 3, 2014 (11:30 - 11:45)
October 3, 2014 (11:45 - 12:00)
October 3, 2014 (12:00 - 12:15)
October 3, 2014 (12:15 - 12:30)
October 3, 2014 (15:45 - 16:00)
October 3, 2014 (16:00 - 16:15)
October 3, 2014 (16:15 - 16:30)
October 3, 2014 (16:30 - 16:45)
October 3, 2014 (16:45 - 17:00)

SKIACTIVE ski school became as a result of growing demand for modern and comprehensive skiing training. Skiactive is a team of young, responsible people, who are very keen on skiing and are also perfect teachers, which professionalism is guaranteed by Polish Skiing Association, to whose our ski Instructors belong to. Apart of skiing and snowboarding trainings we are also busy ourselves with good organization of skiing events for individual and business clients as also working out and leading winter promotion events.
We began our skiing adventure under SKIACTIVE mark in 2004, starting from running skiing trainings as Ski Instructors. It turned out that our great experience with working with clients, knowledge many European skiing villages and also modern methods of teaching are our big values, which helps us not only to lead skiing events on our own but also has big impact on raising attractivness of our offer.

Additionally, we are aware of demands diversity and our clients' expectations so we took a strategy to treat everyone individual and fit each, single offer specially for our clients possibilities and needs. We think direct contact with clients is the best way to analysis their needs, give ideas and original vision became reality.

So far long-term cooperation with representative of FISCHER company at Polish market let us to get a status of FISCHER authorized Ski School. Since 2008 we run also BRIKO-MAPLUS academy according authorized and professional ski equipment service.

While 10 years of our business activity we have created a company at about totally new capacity, new type of work, orientated to our clients needs. We have bought professional equipment, essential to lead ski courses and sport organizations as also we convinced many of our customers to our way of pursuing their passion for skiing. Increasing number of satisfied clients is growing year to year and that let us believe that we have chosen the best path to develop our company.

Country: Poland
Organization Type: Tourist agency, Teambuilding agency, Adventure sports agency, Other
Phone: +48790380111
Email: aleksandra@skiactive.com
City: Wrocław ,ul.Pawia 20 D, 52-235 Wrocław Google map
Areas of Activities
Offer
SKIACTIVE- individual clients/Family&Friends events

INDIVIDUAL CLIENTS

Individual Ski
Ski and Snowboarding Training
Ski training
Ski and Snowboard Races
SKIACTIVE Kindergarden
Children Ski Training
Ski Test
Special Ski Trips

More info: www.skiactive.com
Offer
SKIACTIVE- Business clients/events
BUSINESS CLIENTS

VIP All Inclusive Holidays
Integrational Events
Awards
Promotional Events
Training and conferences
Recreational and Sport Events
Ski and Snowboard Races
Company meetings and picnics winter



More information about us You will find on the website: www.skiactive.com

Find us on FB: SKIACTIVE