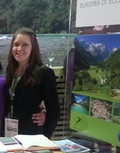 Nina Plesnik , Marketing manager at Hotel Plesnik**** Logarska dolina
http://www.plesnik.si
Bilateral Meetings
October 3, 2014 (09:30 - 09:45)
October 3, 2014 (09:45 - 10:00)
October 3, 2014 (10:00 - 10:15)
October 3, 2014 (10:15 - 10:30)
October 3, 2014 (11:00 - 11:15)
October 3, 2014 (11:15 - 11:30)
October 3, 2014 (11:30 - 11:45)
October 3, 2014 (11:45 - 12:00)
October 3, 2014 (12:00 - 12:15)
October 3, 2014 (12:15 - 12:30)
October 3, 2014 (15:45 - 16:00)
October 3, 2014 (16:00 - 16:15)
October 3, 2014 (16:15 - 16:30)
October 3, 2014 (16:30 - 16:45)
October 3, 2014 (16:45 - 17:00)
The four-star Plesnik - located in one of the most beautiful alpine valleys in Europe - Logarska valley is surrounded by mighty peaks of Kamnik-Savinja Alps and offers luxurious amenities, exquisite dining and professional service. Highlights for us include the breathtaking views from the south-facing balconies, the splendid hotel terrace and the heated ground level pool and sauna facilities with a glass wall through you can view the valley while you swim. These are free to use for guests and various massages and other treatments are available for an extra charge. The hotel is also a popular destination for business retreats and meetings and multi-day packages for couples and families are also on offer. Additional accommodation is offered in adjacent Villa Palenk, which has rooms of similar standards (and access to the pool) for slightly lower prices. we have great possiblities for activities on open as: hiking, biking, mountain climbing, hunting, foto hunting ...
Country: Slovenia
Organization Type: Hotel
Phone: 00386 (0)3 839 23 00
Email: nina.plesnik@plesnik.si
City: Solčava ,Logarska dolina 10 Google map
Areas of Activities
Offer
MICE Offer
Hotel with conference facilities
Offer
Hotel accommodation, active holidays, hiking, biking and fishing packages
One of the most beautiful valleys in EU with possiblities for outdoor activities: hiking, mountain climbing, via ferrata, biking, canyoning, rafing, kayaking, hunting, photo hunting, fishing...